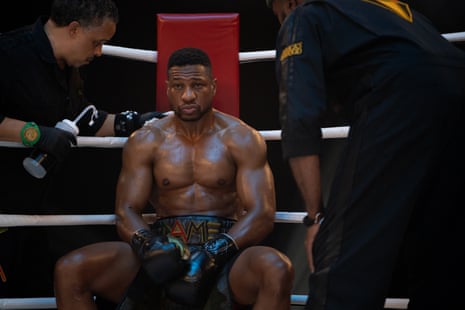 We've probably all seen enough of the Rocky/Creed series of boxing dramas to know that when our hero steps into the ring, it's not so much his rival that he has to defeat, but his own snarling pack of personal demons. Even so, the opponent in this instalment, Damian "Dame" Anderson, is particularly formidable, in part because he is a physical manifestation of those demons, an uncomfortable reminder of the guilt and shame that now-retired champion Adonis Creed (Michael B Jordan) has carried with him since childhood. But mainly because he is played by the charisma forcefield that is Jonathan Majors, an acting heavyweight in every sense of the word.
Jordan is doing double duty here, directing as well as starring in this solidly by-numbers chapter in the ongoing Creed saga. He does a workmanlike job – the fight sequences are thrillingly visceral, but his weakness for cheesy montages and the film's formulaic screenplay ensure that the picture was never going to take the franchise anywhere new.
A flashback to LA, 2002, sets up the friendship between Creed and Dame, then both scrappy kids with aspirations of boxing stardom. But a night takes a fateful turn, and while Creed gets to live the dream, Dame does an 18-year stint in prison. When he is finally reunited with Creed, Dame's face wears the kind of smile that looks as though it causes physical pain. There's a tacit acknowledgment from both men that Creed owes his former friend, and that Dame is about to collect – in the boxing ring, where else?
… we have a small favour to ask. Tens of millions have placed their trust in the Guardian's fearless journalism since we started publishing 200 years ago, turning to us in moments of crisis, uncertainty, solidarity and hope. More than 1.5 million supporters, from 180 countries, now power us financially – keeping us open to all, and fiercely independent. Will you make a difference and support us too?
Unlike many others, the Guardian has no shareholders and no billionaire owner. Just the determination and passion to deliver high-impact global reporting, always free from commercial or political influence. Reporting like this is vital for democracy, for fairness and to demand better from the powerful.
And we provide all this for free, for everyone to read. We do this because we believe in information equality. Greater numbers of people can keep track of the global events shaping our world, understand their impact on people and communities, and become inspired to take meaningful action. Millions can benefit from open access to quality, truthful news, regardless of their ability to pay for it.